Welcome to block play 
Originally established as Mahkupu in 2002, block play is an Australian owned and operated business.  Our passion is to provide Schools, Pre-Schools, Kindergartens, Early Childhood and Family Day Care Services as well as parents with high quality, innovative and creative learning resources that will stand the test of time on a daily basis with larger groups of children.  To achieve this, block play adopted the approach of taking the time to talk with and to listen to teachers and educators to gain a better understanding of what they needed in learning resources.  This approach has enabled block play to design and develop our own specalized range of sustainable learning resources for STEM and Loose Parts Play, to support teachers and educators to achieve the following;
To nurture young children's developing conceptual understandings
To provide quality learning opportunities that scaffold a child's learning
To develop, plan for and provide high quality, developmentally age appropriate programs
For further information, refer to our page title "Pedagogy".
Our STEM Building Blocks have been designed as a creative, open ended, hands on learning resource that will enable children to achieve a solid foundational understanding of Science, Technology, Engineering, Mathematics and Artistic Design.
All our learning resources are ethically manufactured exclusively for block play under commercial licence from sustainably sourced bamboo and beechwood in accordance with International Quality Guidelines AQL 1.5/4.0.  Independently tested and certified every two years, our learning resources meet Australian / New Zealand Standard: AS/NZS 8124 as well as European Toy Safety Standards: EN 71.
All manufacturing is carried out in factories that have been audited by the International Standards Organization (ISO 9001) and accredited with the Business Social Compliance Initiative (BSCI).  The BSCI is a code of conduct consisting of eleven fundamental labour principles compiled by the International Labour Organization and the United Nations Charter of Human Rights.
The models displayed on this website have been developed and constructed over a number of years.  Occasionally some older models may appear with blocks that are no longer in production.  These older models can be constructed by substituting blocks from our current range of STEM Building Blocks as well as various pieces from our Loose Parts Play range of accessories.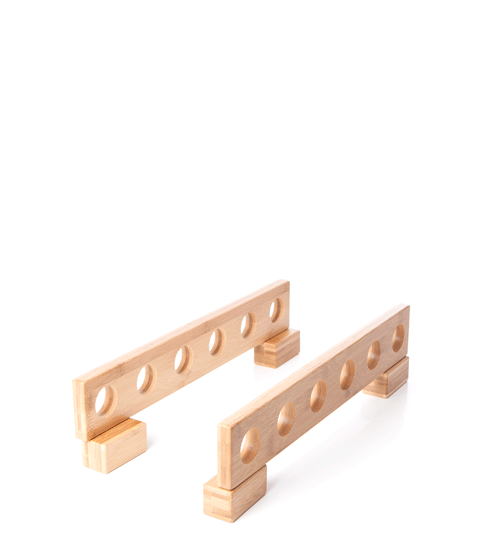 Why Bamboo?
Bamboo is a light, tough and durable natural resource
Bamboo grows up to 12 times faster than trees and can be re-harvested every 5-6 years
Bamboo needs only half the water than trees when growing
Bamboo needs no pesticides or fertilizers when growing
Bamboo absorbs up to 4 times more greenhouse gas than trees
Bamboo returns up to 35% more oxygen to the atmosphere than trees
Bamboo is unique with its own anti-bacterial, anti-fungal and anti-microbial properties
Bamboo is one of the world's most sustainable natural resources
Why Blocks?
For centuries, building blocks have long been acknowledged by teachers and educators throughout the world as one of the most powerful and effective educational tools for learning. 
Building blocks enable children to learn and develop the following essential skills needed for school and life;
rational and creative thinking
literacy and numeracy
analytical problem solving
communication and collaboration

 

 
Frank Lloyd Wright (known as the Father of Modern Architecture) at the age of nine was given a set of building blocks from his mother, Anna, a school teacher.  Those building had a profound impact on his life.  In his autobiography, he quoted that those building blocks were "Instrumental to him in the awakening of his child-mind to the rhythmic structures in nature and I soon become aware of the constructive patterns unfolding in everything I saw".
Albert Einstein spent countless hours playing with building blocks, designing and creating complex mathematical structures.  Reflecting on his childhood, Albert Einstein discovered that "Play is the highest form of research" and "Imagination is more important than knowledge". 
Playing with building blocks engages and stimulates all areas of the brain to aid in the formation and development of information and processing pathways.
Through the activity of block play, children develop a deeper understanding of the following concepts ;
Maths
Area, volume, size, order, shapes, numbers, measuring, estimating, fractions, stacking and piling, sorting and grouping, adding and subtracting, length and height, width and depth, short and long, equal and unequal.
Science
Gravity, force, weight, balance, stability, planning, textures, spatial awareness, cause and effect, action and reaction.
Literacy
Labelling, rhyming, oral language, sentence structure, developing vocabulary, using writing, creating stories, dictating and recalling stories, describing objects and structures, making and using signs and symbols.
Creative Development
Symmetry, patterns, designs, logical reasoning, abstract thinking, problem solving, spatial visualization, finding new solutions, sensory exploration and self expression.
Physical Development
Visual perception, eye hand coordination, body awareness, strengthening fingers and hands, bending and building upper body strength.
Social and Emotional Development
Competence, success, autonomy, initiative, equality, negotiation, compromise, leadership, responsibility, emotional release, making choices, building confidence and self esteem, co-operating and working with others.
For a more detailed understanding of how block play's innovative sustainable learning resources improves children's developmental learning, refer to our page "pedagogy".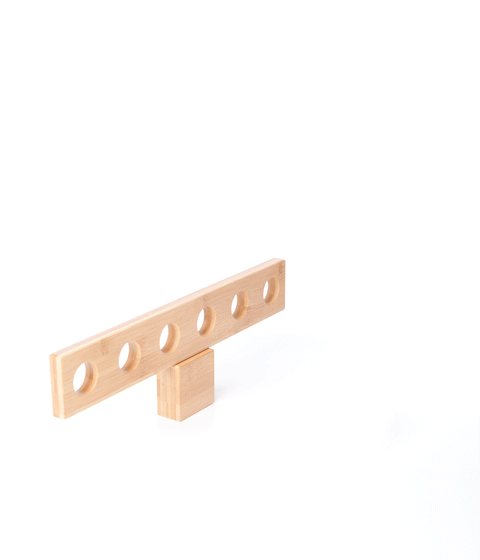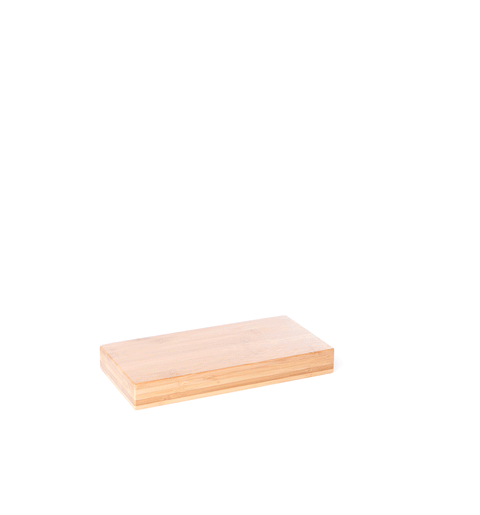 Testimonials
What an awesome product!  Having two boys, we've seen many toys bust and break within a few days.  These items are very well made and sturdy.  After several months with our two they are still going strong and look as good as new.
Chris and Tracy-Anne
We had a particular direction in mind when setting up our first Kindergarten service and wanted high quality, long lasting resources that would open countless possibilities for the children.  Since purchasing the blocks we have also come back for the bamboo cars, counting board and animal figurines.  Block play is an integral part of the children's play and the bamboo blocks have added a new direction to the children's constructions.  They also tick lots of boxes for us towards our sustainability and natural elements visions.  Not only are they durable, open ended and natural, they are beautiful to hold and use.  A fantastic resource for any room.  The block play bamboo blocks have not disappointed and we would happily recommend them to other services.
Janet Schluter – Peace of Mind FDC/CK
Terms and Conditions
The Terms and Conditions of our website are subject to change without notice.
Pricing and Design
Current prices are available on request through the Wish List tab.  block play reserves the right to change the product pricing, products and logo designs without notice.
Ordering and Payment Details
Customers can email their orders at:  sales@blockplay.com.au  We will contact you regarding the approximate date for delivery and the cost of freight.  A tax invoice will be issued clearly identifing the GST as a separate component.  Payment terms for approved account customers (Kindergartens, Pre-Schools, Early Childhood Services and Schools) is 14 days after delivery of your order.
Product Care
All our learning resources are designed for and recommended for indoor use only.  We recommend that all play areas and hands to be clean and free from sand, dirt and grit as these materials are natural abrasives that can cause scratching.  Resources should never be submersed in water.  Resources can be wiped over with a damp cloth and dried thoroughly before packing away.  A regular application of natural furniture oil is recommended.  Over a long term basis, we suggest that resources should be lightly sanded before applying natural furniture oil.
Change of Mind
Please choose carefully as block play do not provide a refund if you change your mind or have made an incorrect product selection.
Product Warranty
All our learning resources are designed for and recommended for indoor use only and are ethically manufactured exclusively for block play under commercial licence from sustainably sourced bamboo and beechwood in accordance with International Quality Guidelines AQL 1.5/4.0 and are independently tested and certified every two years to meet Australian / New Zealand Standards AS/NZS 8124.
When selecting any of our resources it is the responsibility of the supervising adult to carefully take into consideration the age and the nature of the child/children before engaging in play,
Claims regarding manufacturing faults should be forwarded by email with the Tax Invoice number and photographic image within the 30 day warranty period.  On verification of any claim, block play will bare the cost of any resource approved for replacement.
Please Note:  This warranty does not cover any product that has been damaged as a result of accident, misuse or rough and inappropriate play.
Disclaimer
We believe the information on this website is correct at any given time.  No representation or warranty is given regarding the accuracy of stated information.